We manufacture and sell products made from eco-friendly wood plastics.
Floorboard for curing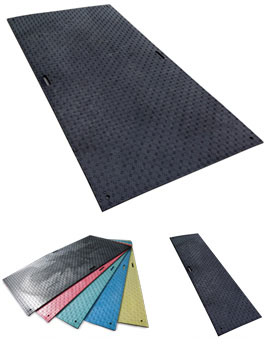 W board
Demand for W board has been increasing because it is lighter than the iron floorboard, easy to transport and construct. It is cheaper than plastic and environment-friendly.
Colored W boards also can be provided.
Innovative long-length W board is ideal for passages in PVC greenhouses and for curing the running motion of mini trucks.
Features of W board
More high-performance than general polyethylene resin floor boards!
Increases compressive strength by 40%!!
Stable production at two newest factories in Japan !
Launched from The University of Tokyo!
Eco-friendly resin floor board excellent at adopting the great strength of composite plastic material

Floorboard for agricultural sector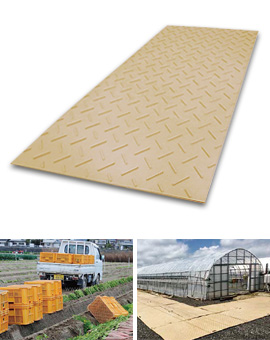 Diban
Convenient floorboard released!
Sturdy, lightweight, and low-priced floorboard exclusively for the agricultural sector.
Features of Diban
Curing floorboard for agricultural sector
Sturdy, lightweight, and low-priced
Domestic production with secure (Acquisition of ISO9001)
Uses "Wood Plastic", a composite material which plastic (polyethylene) is reinforced with wood fibers

Synthetic rubber mat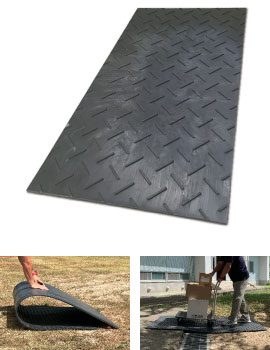 FIT-KUN
Stronger, lighter and easier to carry than rubber mats.
Features of synthetic rubber Mat FIT-KUN
Softly fits to the ground
Lighter and harder than rubber mats, making it easy for people to carry
Wide variety of sizes compared to ordinary rubber mats

Ready-mixed concrete inducer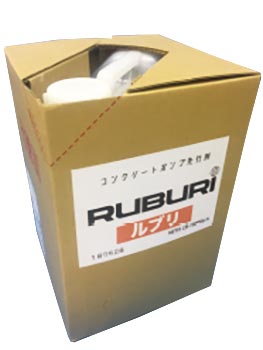 RUBURI
Inducer for pumping ready-mixed concrete developed by Take cite Co., LTd., replacing with a mortar inducer.
Features of RUBURI
90% reduction of the waste of mortar inducer
Unnecessity of 1 vehicle for mortar inducer (leading to CO2 reduction)
Eco product reusing sludge of ready-mixed concrete

Residual concrete modifier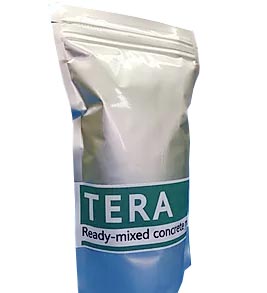 TERA
Residual concrete modifier developed by TAKE cite Co., Ltd.
Features of TERA
Residual concrete becomes non-industrial waste
TERA helps to build compliance systems because there is no need to transport residual concrete outside the site.
Residual concrete modified by TERA can be used as RC material available for scattering on-site parking lots or reclaiming puddle areas
The amount of water used to wash around the hopper can be greatly reduced, and the environment of the site can be preserved.

New technology enabling safe extraction of amorphous and soluble silica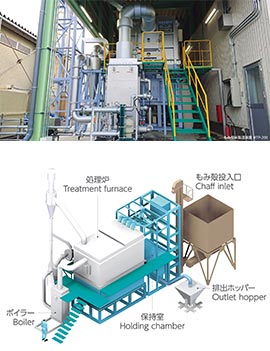 Rice husk processing furnace
The underutilized rice husks become rice husk ash, which contains beneficial amorphous soluble silica while producing heat.
Features of rice husk processing furnace
High amount of heat can be obtained from rice husks, that is, dry biomass
Heat treatment with advanced control technology, and no emission of harmful substances
Produces rice husk ash containing beneficial amorphous soluble silica